Through the Sole is the all things shoe related blog written by Jennifer Schlesinger, a New Yorker who works in news media, is a Cornell University graduate, and who, of course, loves of shoes.
Through the Sole was recently named
to Feedspot's list of Top 75 Shoe Blogs.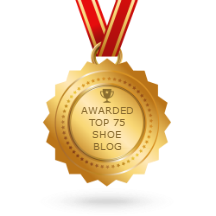 In February 2017 Through the Sole had the best month ever, nearly 6,600 page views.
Through the Sole has been featured on ABC7 Eyewitness News and the Cornell University Communication Department's Website.

Through the Sole was originally created for a class I took as part of my undergraduate studies at Cornell University, called Writing for New Media. It was born out of my love of shoes and all things shoe related. As a class project, it needed to be an academic blog and a specific focus.

When the class was over, I realized how much I enjoyed blogging and decided to continue. I now have made Through the Sole more personal, and share my shoe related personal stories. I have also added images, videos, and social media presence. I also realize one of the best things about shoes is shopping so I have started sharing my purchases and reviews.

For more frequent updates, follow us on twitter @throughthesole, become a fan on facebook, follow me on Pinterest, check out pictures on Instagram.
And now, Through the Sole just joined SnapChat.
https://www.snapchat.com/add/throughthesole

All opinions expressed are my own. However, I do accept shoes in order to review them and give my personal take.
This blog reflects my personal views and in no way represents the views of my employer. This is my personal blog.

I truly appreciate all my readers and hope you will share you thoughts and post ideas. Please e-mail me with any ideas and comments.
Best,
Jennifer
throughthesole1@gmail.com
Tweet