After the Royal Wedding, Pippa Middleton has caught the world's attention, especially after stepping out in a stunning cowl neck Sarah Burton for Alexander McQueen dress at Kate's wedding. The unmarried Pippa is becoming a style icon like her sister and her shoe choices complement her sense of fashion.
At the Royal Wedding ceremony, Pippa wore white pumps under her dress, although the exact designer and style is unknown. You can catch a glimpse in the below picture. The Official Royal Wedding site does not specify who made her shoes. It says that the bridesmaid's shoes were made by Rainbow Club, a shoe company based in Devon. It describes them as "classic Mary Jane style shoes are made from satin and finished with a Swarovski crystal buckle." The pictures suggest Pippa did not wear these same shoes, just like her dress was different than those of the young attendants.
The shoes Pippa wore to the wedding reception are known. She wore "Lynn" silver leather sandal with diamante detailing by London footwear designer Aruna Seth, according to InStyle. The shoes complement her green Temperley dress's crystal embellishment.
"We were truly honored to see Pippa wearing our gorgeous Lynn silver sandals on the Royal Wedding day, a great choice to match her beautiful Temperley dress…Pippa looked truly stunning and was the most perfect bridesmaid for Kate. We hope she chooses more shoes from Aruna Seth as she becomes even more of a global style icon," the designer told InStyle.
The designer sent 10 pairs of shoes to Pippa before the wedding, according to InStyle. However, according to SavySugar, Pippa refused the free shoes. The shoes list for $875 and are available online.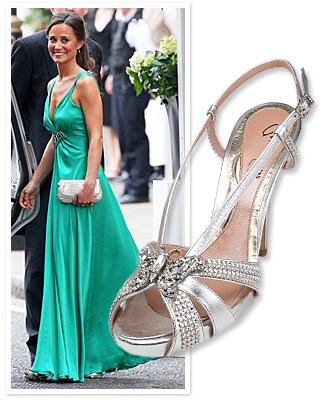 What do you think of Pippa's shoe choices? Plus if you have any further information on her wedding ceremony choice, please let me know!
For information on Kate Middleton's wedding shoes, see here. For Victoria's Beckham's royal wedding shoes, click here.
Other Post You May Enjoy:
Tweet