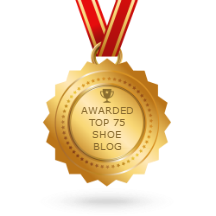 I have some exciting news to share: Through the Sole was named to Feedspot's list of Top 75 Shoe Blogs. Thank you for the honor!
If you're unfamiliar, Feedspot, is a content aggregator.
In other exciting news, Through the Sole has been getting a record number of hits. In January, it was nearly 6,200 page views, a record, and then February topped that with nearly 6,600 pageviews.
Thank you so much for all your time and support!
And this is Through the Sole's 150th post. Here's to many more!

For more frequent updates, follow on twitter @throughthesole, become a fan on facebook, follow us on Pinterest and Instagram. Don't forget, Through the Sole just joined SnapChat, https://www.snapchat.com/add/throughthesole
Related Posts:
Happy 7th Birthday Through the Sole!
Let's get snapping: Through the Sole joins Snapchat

Other Posts You May Enjoy:
The shoes of the Rock and Roll Hall of Fame
President Trump and shoes
Tweet