Lady Gaga is making headlines right now for her strong support of the repeal of Don't Ask, Don't Tell. She is also known for her different and unique clothing choices, such as her dress made of meat at the Video Music Awards (VMAs). Although less known for her shoe choices, she has recently been getting media coverage for them. They include shoes made of meat to match her dress, sky-high stilettos, and heel-less platforms.
To match her meat dress, Lady Gaga wore meat shoes designed by Franc Fernandez (Stimpert, 2010). For a picture, click here
. The dress has inspired outrage by animal rights advocates and I strongly agree. As a vegetarian who avoids meat to not kill animals, the dress and shoes were distasteful and extremely wasteful. As PETA pointed out, "what's next: the family cat made into a hat? Meat is the decomposing flesh of a tormented animal who didn't want to die, and after a few hours under the TV lights, it would smell like the rotting flesh it is and likely be crawling in maggots—not too attractive, really" (2010). Ellen DeGeneres presented Lady Gaga with a veggie bikini (PETA, 2010), this sounds like a great idea. I'd love to see shoes made of veggies!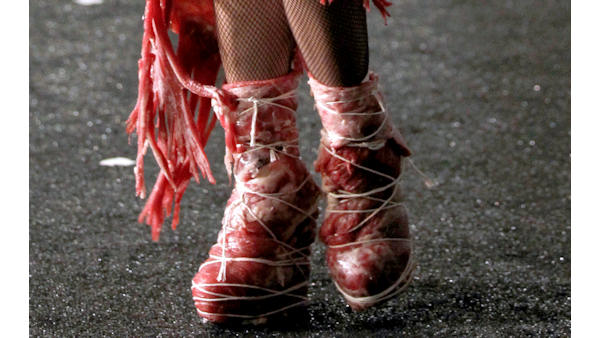 To arrive to the VMAs, Gaga wore what has been named "lobster shoes." For a picture, click here, below
. Luckily, no lobsters were harmed in the creation of these shoes. These shoes are 10 inches tall and designed by Alexander McQueen (Stimpert, 2010). She wore similar shoes in her Bad Romance video, above.
Forget matching your shoes to your handbag, Lady Gaga regularly matches her shoes to her outfit. In February, Gaga wore a white pearl encrusted outfit with matching pearl encrusted white platform boots, below
.
At the Grammies, to complete her galactic theme, Gaga wore heel-less jewel encrusted stocking shoes, below
(Stimpert, 2010).
At the Brit Awards, Gaga wore a white lace getup and matching lace heeled booties, below
.
Unfortunately, Lady Gaga's shoe choices have not always worked out well for her. In June, she made headlines when she fell probably because of her shoes at Heathrow Airport. For images, click here, below
. She was wearing extremely high black leather platform boots (Siemaszko, 2010).
Despite the mishap, Lady Gaga does seem to have impeccable balance. She wears these interesting, and probably very difficult to walk in, heel-less platform boots, see below
. The platforms can be as tall as 9 inches. They were designed by Japanese accessory designer, Noritaka Tatehana. He got the inspiration from clogs Japanese children used to make from cans. Their price tag is a whopping $2,500 to $4,000 a pair. So far, Tatehana has designed five pairs for Gaga (Clott, 2010).
Lady Gaga is pretty creative with her shoe choices, and has a knack for pulling off very unique shoes, although I wouldn't even consider wearing her meat shoes. What do you think of Lady Gaga's shoe choices? Could you pull them off?
Tweet